Movable Precision Oil Filter Machine MP-4R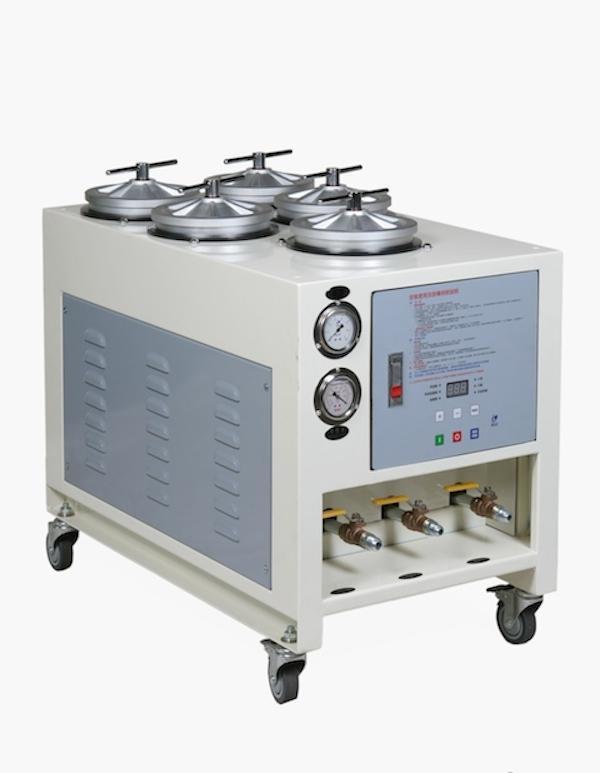 MP-4R Movable Precision Oil Filter Machine
Product ID: MP-4R
Suitable capacity of oil reservoir: 800-1000 liter
Specifications:
Flow at 50Hz: 2.6-14.0 liter/mints; Flow at 60Hz: 3.2-17.0 liter/mints

Suitable capacity of oil reservoir: 800-1000 liter

Normal pressure setting for mercury: 1-3 kg/cm2

Port diameter ( in_out ): 1/2_5/8

Weight: 116 kgs

Dimension: 97x51x75 cm

Motor: 1/2 HP

Voltage: On request

Single-phase / Three- phase

50HZ/60HZ

Apply filter core: G-100 x 4 pcs

One of the tanks contains a reusable pre-filtering mesh

Length of pipes: 3 meter

Length of power cord: 5 meter, 4-conducto

Each machine contains one set of filter core
Features:
Equipped with pre-filtering mesh to protect the pump and extend the service life of precision oil filter.

Equipped with pump for operating independently, enable to filtration oil continuously, clearness performance reach to NAS grade 6~9, which is even better than new oil, possibly no oil change for 10 years.

By using purified oil, the mechanical failure can be substantially reduced, mechanical service life to be extended, also quality and productivity to be improved.

Equipped with warning indicator for power leakage and voltage overload, and automatic shutdown mechanism.

Equipped with warning indicator for filter replacement and overpressure, and automatic shutdown mechanism.

Filter operation can be set for specific number of days, hours, minutes, or kept switched on continuously; it can also be used as oil pumping unit.

When using three-phase power, the motor automatically detects the change of rotation direction, to avoid the troubles of reconnecting the machine.

Simple installation, no machine stoppage necessary, and easy to maintain.

The filtration performance would be even better with the machine running.
Order Information:
Minimum Order: 1
Branded Product